Lexus of Edmonton, AB Community Involvement
Lexus of Edmonton Supports the Edmonton Community and is Always Giving Back!
Lexus of Edmonton is Proud to Support Edmonton, St. Albert and all surrounding communities. Lexus of Edmonton is proud to once again support many local community organizations and events. Below is listed our long support with Edmonton and St. Albert communities. We also sponsor many events as they happen on a monthly basis. Our core value is to give back to our community as Edmonton is our home and a community we love.
Lexus of Edmonton Community Involvement
Citie Ballet
Citie Ballet is Edmonton's resident, professional ballet company. Each season, it mounts a vibrant program of neoclassical ballet and modern and contemporary dance over the span of three productions. The company commissions original works and collaborates with various arts groups. Citie Ballet also stays true to its roots by remounting and reimagining classical ballets.
Sturgeon Community Hospital Foundation
At the Sturgeon Community Hospital Foundation, we believe a great community encompasses all of these ideals. We're proud of the role our hospital has played in the growth and development of the City of St. Albert, Sturgeon County and North Edmonton. Our region offers one of the best standards of living in our province and our country and we feel fortunate to be one of the cornerstones that have made our community what it is today.
At the Sturgeon Community Hospital Foundation, we are encouraged by the advancement in health care and how our hospital has enhanced the personal well being of everyone in our community. Our passion, hard work and fundraising efforts help grow our organization's reach and keep donations dollars within our community and families.
The Sturgeon Community Hospital Foundation raises funds to support the four key areas within the Sturgeon Community Hospital including:
Enhanced family care
Purchase of leading edge medical equipment
Support of further innovation
On-site and community education
Shumka's Clara's Dream – Edmonton's Ukrainian Nutcracker
The Ukrainian Shumka Dancers, Edmonton's Citie Ballet, Viter Ukrainian Folk Choir and Ukraine's Virsky and Kyiv Ballet join forces for Clara's Dream…Edmonton's Ukrainian Nutcracker!. In celebration of the Christmas season, Clara's Dream brings this Canadian-Ukrainian artistic collaboration to the Northern Alberta Jubilee Auditorium in December.
Clara's Dream is the only Ukrainian folk ballet representation of Tchaikovsky's Nutcracker. Given the famous composer's Ukrainian heritage, the production incorporates Ukrainian Christmas traditions, folk and character dance, a grand orchestral version of Shchedryk (Carol of the Bells), and Ukrainian symbols woven into the lavish sets and costumes.
Witness the story of the young Clara, her dream prince, the meddling mice and the magic of the holiday season. A delight for the senses, don't miss this unique presentation of the beloved Christmas classic.
Alberta Cancer Foundation
Every day, 43 Albertans hear the words "you have cancer". The Alberta Cancer Foundation aims to make a difference today, for every Albertan that is affected by these three words.
Like our donors, we are impatient. We are pushing forward for faster results that will improve the lives of 43 Albertans today and for every coming day until we achieve our vision of a cancer-free Alberta.
This vision is bold. To realize it, we have to do things differently. We take a strategic approach to investing donor dollars, toward initiatives and programs that will lead to:.
Research and programs that have a clear impact for patients
Earlier detection
Improved treatments and an enhanced quality of life.
Unlike any other philanthropic organization in Alberta, we only invest in ideas that will deliver results to cancer patients. As the fundraising partner for all of Alberta's cancer centres, including the Cross Cancer Institute in Edmonton and the Tom Baker Cancer Centre in Calgary. The Alberta Cancer Foundation ensures that our investments directly support cancer patients.
We know that collaboration will speed up the rate of progress. We bring donors, patients, health care providers and researchers together. So that they may work together in reaching their goals, that alone would be unreachable.
Our mission is to make Alberta the leader in cancer prevention research and care. Our vision is a cancer-free future. We strive to be one of the most innovative philanthropic organization in Canada. We achieve this by delivering transformational results for those waging the war against cancer, and their families. Strategic priorities drive our organization as we continue to push for changeOur mission is to make Alberta the leader in cancer prevention research and care. Our vision is a cancer-free future. We strive to be one of the most innovative philanthropic organization in Canada. We achieve this by delivering transformational results for those waging the war against cancer, and their families. Strategic priorities drive our organization as we continue to push for change
Edmonton Symphony Orchestra
The Edmonton Symphony regards as its artistic mission to bring the highest quality of live orchestral performance to a broad spectrum of the community. In the last 60-plus years, the Edmonton Symphony Orchestra has taken its place as one of Canada's foremost orchestral ensembles. Its current roster includes 56 musicians from Canada and around the world, performing a wide-ranging repertoire from the great classical masterworks to pops and family concerts. The Edmonton Symphony Orchestra made its Carnegie Hall debut as part of the Spring for Music festival on May 8th, 2012.
Citadel Theatre
The Citadel Theatre is one of North America's largest not-for-profit theatres. It is a complex of five performance spaces in downtown Edmonton. The Theatre's core programming in the 2015/16 season features 9 plays. The Citadel also features an outreach performance series each year known as Beyond the Stage, designed to encourage people who have not encountered much live theatre to come into the Citadel and experience various forms of entertainment beyond conventional theatre offerings. A registered charitable organization, the Citadel also operates a year-round theatre school known as the Robbins Academy.
Stollery Children's Hospital Foundation
The Stollery Children's Hospital Foundation raises money in support of the pursuit of excellence in children's health care, thanks the donors who support us, and communicates to donors the impact of their donation on the lives of children and their families.
Ovarian Cancer Canada
Ovarian Cancer Canada is the only registered Canadian charity solely dedicated to overcoming ovarian cancer. We provide leadership by:
Supporting women living with the disease and their families
Raising awareness among the general public and health care professionals
Funding research to develop early detection techniques, improved treatments and, ultimately, a cure.
Edmonton's Food Bank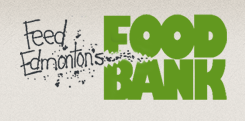 Each month, more than 15,000 people receive food hampers from Edmonton's Food Bank. The Food Bank also distributes food to more than 410,000 meals and snacks each month through more than 210 agencies, churches or food depots with which we are affiliated. Approximately 40 per cent of clients served are children under 18.
Nina Haggerty Centre for the Arts
The Nina Haggerty Centre for the Arts exists to:
Provide a supportive place where people with developmental disabilities can become practicing artists
Promote the Centre's collective of artists
Provide opportunities for the exhibition of work by artists who face barriers, including the Centre's artists' collective.
Operate a public gallery and other outreach programs that connect artists and audiences.
MS Society of Canada
The MS Society provides services to people with multiple sclerosis and their families and funds research to find the cause and cure for this disease. We have a membership of 28,000 and are the only national voluntary organization in Canada that supports both MS research and services. Since our founding in 1948, the core support of the MS Society has been from tens of thousands of dedicated individuals, companies and foundations in communities across Canada. The Society receives almost no funding from government.
Edmonton Public Library
EPL is committed to literacy, learning and to making Edmonton a great place in which to live and work. Through its various community partnerships and outreach activities the Edmonton Public Library strives to serve a diverse population and provide up-to-date training for its staff. With teen zones in all branches; new Aboriginal and multicultural services and materials; senior friendly facilities; and in-depth workshops, conferences and skills upgrades for staff, EPL continues to ensure that the public library is relevant to Edmontonians today and in the future.
Kid's Kottage Foundation
The Kid's Kottage Foundation is here for Parents and Children. For children, it's a safe nurturing home away from home during a time of family crisis. For parents in crisis, our help is a phone call away, and we ensure that caring support, encouragement and guidance is given to any parent in need.
The St. Albert and District Chamber of Commerce
The St. Albert and District Chamber of Commerce is a champion of ideas; leading, inspiring and advocating for our community, facilitating change and growth while creating a fertile environment for businesses, partnerships, and residents.