Lexus Promotions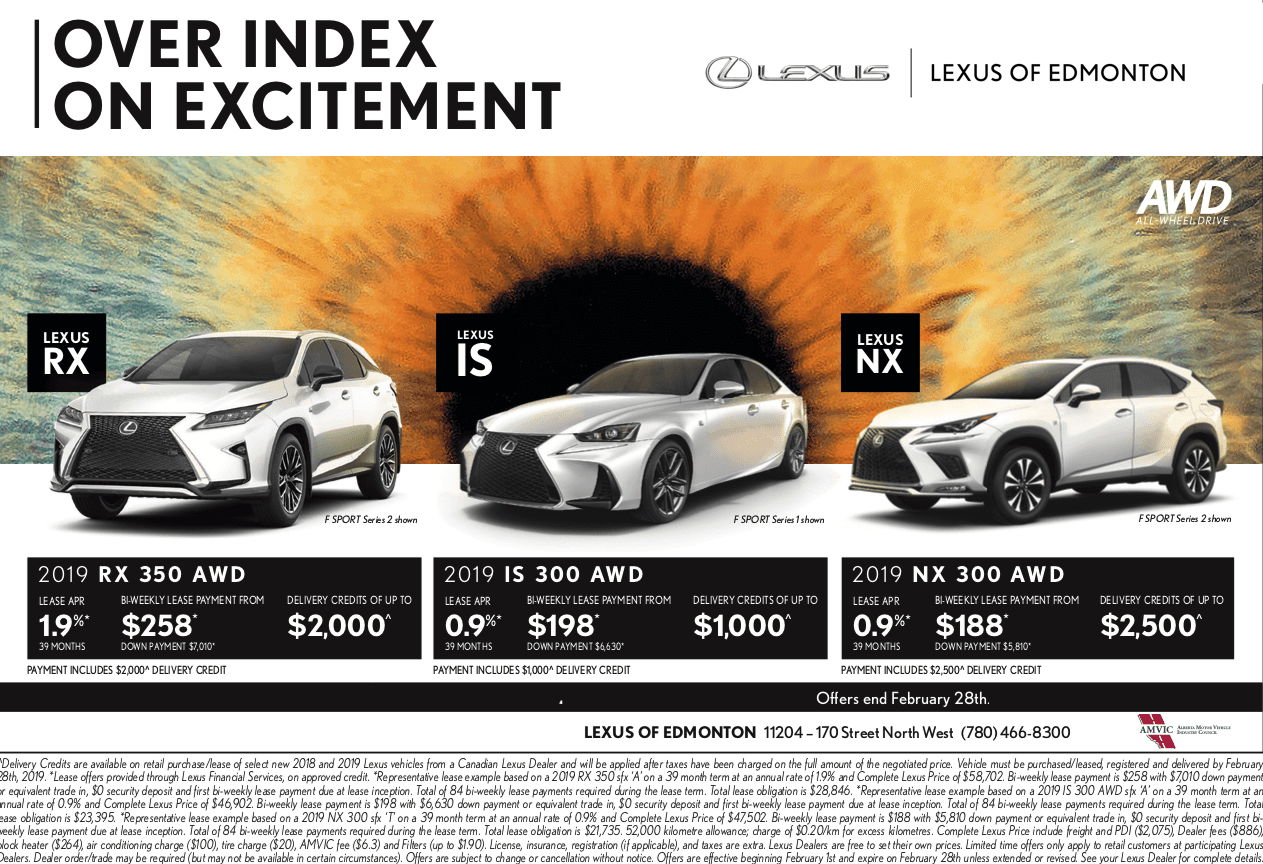 [display_inventory type="New,Used" startyear="2006″ endyear="2019″ make="Lexus" bodytype="Cars,SUVs" Lexus of Edmonton
Lexus of Edmonton is proud to announce that we are the #1 Volume Lexus Dealership is Western Canada. Not only are we the number Lexus Dealer, We are also the #1 Volume Luxury Store in Alberta. What does that mean? More people have chosen and bought Lexus in Alberta than any other Luxury brand including, BMW, Mercedes, Audi and more.
If you have considered and researched any luxury Brand, now is the time to take advantage our specials. Thank you for making us the Number One Lexus Dealership in Western Canada and the Number One Luxury Brand in Alberta! Rest easy, if you see any offers from our competitors, we will match and beat them. Lexus of Edmonton is your Luxury Lexus Dealership. We have been serving Alberta for over 10 years and are locally owned and the original Lexus dealership located on the west end of Edmonton on 170 street and 111 Avenue. Don't take it from us. Read over 1100 of our Google Reviews here from our guests.
Lexus has ranked the highest in Vehicle Dependability for a Fourth Consecutive Year, most recently the 2015 study by JD Power. You can sleep easy knowing that your Lexus vehicle is not only luxurious, but it a vehicle you can depend on too.
Why Choose Lexus of Edmonton?
Lexus of Edmonton is Canada's Top Google Rated Dealership in Canada with over 1100 reviews from our guests. Read our reviews here. Our Team listens to your needs to help find you your perfect new Lexus. We have over 10 years of Lexus Edmonton experience which you can not find anywhere else in Edmonton. We are devoted to our community and our guests on providing you with the best Guest experience.