NX Turbo VS The Competition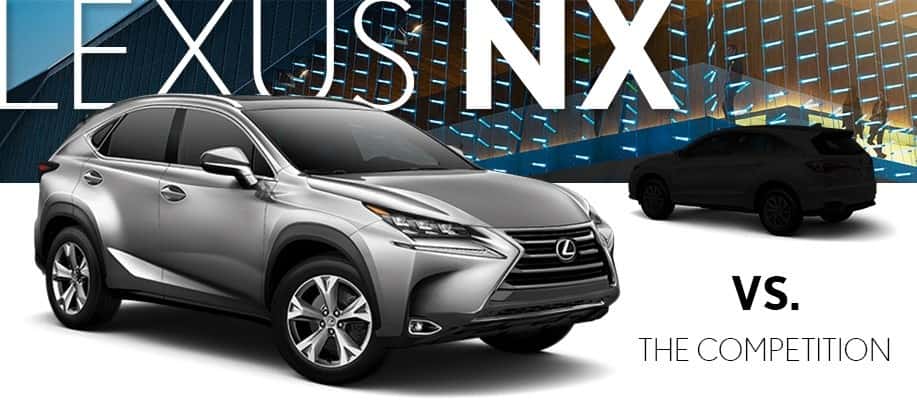 Luxury
At It's Best
Compare the 2017 Lexus NX Turbo
To the 2017 Acura RDX
Get the luxury SUV you've always dreamed of right here at Lexus of Edmonton. The stunning 2017 Lexus NX Turbo delivers exceptional performance, advanced technology and a first-class cabin that makes every drive one to remember. Compare the new 2017 Lexus NX Turbo SUV to competitors like the 2017 Acura RDX Base 4dr AWD and you'll see why it comes out on top. Schedule a test-drive at our Lexus dealership in Edmonton, AB, so you can experience the NX Turbo firsthand!

2017 Lexus NX Turbo
VS. 2017 Acura RDX
Base 4dr AWD
Fuel economy – CITY (L/100 km / mpg)
Fuel economy – HWY (L/100 km / mpg)
Powertrain Warranty (months/km)
The
2017 Lexus NX Turbo
is the complete package for drivers who need a reliable family SUV that brings a whole new level of luxury to every adventure. From its smooth handling to its first-class entertainment features, the NX Turbo has something every guest will love. For just about the same price as other luxury SUVs like the Acura RDX, you get improved fuel economy, a greater tow capacity and a longer list of cabin comforts. That means you can make your trips go farther with the ability to have more fun along the way. The 2017 NX Turbo also offers stellar technologies like the available Remote Touch Interface and a Wireless Charging tray to give you the added conveniences you need to enjoy the ride. Plus, with features like Keyless Door Handles and an optional moonroof, the NX Turbo is designed like a true winner.

See all the differences between the 2017 Lexus NX Turbo and the 2017 Acura RDX, then come check out your favorite here at Lexus of Edmonton.
We'll make your Lexus financing experience simple and stress-free!