Lexus Tires Edmonton


Shop For Lexus Tires
Are you searching for Lexus Tires in Edmonton? Take advantage of our easy-to-use Lexus Tire Store. As a Lexus owner, you can use the tool to access and shop for a wide selection of tires for both current and older Lexus models. With up-to-date pricing and ratings information, it's never been easier to find the right tire for your needs and season.
Regularly inspecting your tires will help determine when they should be replaced. Here is a list of warning signs that your tires may need replacement. Contact our Lexus of Edmonton Service Advisors if any irregularities are noticed.
Tire has any abnormal wear patterns which can affect the safe handling of the vehicle
Tire is cracked and is porous due to age or manufacturer defect
Tire bead or sidewall is damaged
Tire tread is damaged and the tire cord is exposed
Tire tread is punctured and cannot be patched from the inside
Tire belt is shifted and has created an "out-of-round" tire
Tire has abnormal bulge on its sidewall
Tread
Tire is worn to "wear indicator" or to minimum allowable limit as per tire manufacturer (1.6mm or 2/32″ for all-season and 4mm or 5/32″ for winter tires).
Measure it – and inspect it. Advanced and unusual wear can reduce the ability of the tread to grip the road in adverse conditions. Visually check your tires for uneven wear, looking for high and low areas or unusually smooth areas. Also check for signs of damage.
Understanding the tread pattern
The tread on a tire can tell you a lot about what kind of tire it is and how it is likely to perform in various conditions. 
Sipes

More Sipes – higher wet traction
Solid blocks – better tear resistance in gravel, etc.

Lateral grooves

Open – Improved mud, sand and snow traction
Closed – Quiet and higher cornering power on highway

Shoulder blocks

Open – Higher traction
Closed- quiet and higher cornering on highways

Centre rib

Solid – Responsive highway handling
No rib (lugs) – higher traction

Circumferential grooves

Wide and clear- improved water dispersion at highway speeds
Zigzag and lugs – improved off road and snow traction
Increasing Tire Life
Alignment
Is your vehicle pulling to one side, or shaking? A bad jolt from hitting a curb or pothole can throw your front end out of alignment and damage your tires. Correct alignment allows for improved steering response and better handling performance. It also promotes even tire wear, which in turn means longer lasting tires. Proper alignment also reduces wear on the rest of the suspension. We suggest getting it inspected periodically to ensure that your vehicle is properly aligned.
Rotation
Regularly rotating your vehicle's tires will help you achieve more uniform wear and increases the useful life of the tire. Tires should be rotated which we can do with regular service.
Winter Tires
Why use winter tires?
Much too often, winter tires are portrayed as "snow tires". The truth is, winter tires are not only designed to perform in snowy conditions, but they are intended to provide optimal performance in cold weather temperatures as well. Therefore, even in the absence of snow on the road surface, your winter tires will continue to provide you with the performance and safety you expect, thanks to the soft compound mix capable of withstanding extreme temperatures.
Benefits of Winter Tires
Excellent ride, comfort and safety
Exceptional grip in cold conditions
Superior braking capabilities on ice and snow
Superb wet and dry handling
Enhanced vehicle stability control (VSC) operation
Smoother take-off when equipped with traction control (TRAC)
Winter Tire Performance
Winter tires are particularly effective under difficult environmental conditions (snow, ice and mud) and at low temperatures, below +7?? degrees Celsius (44.6 degrees Fahrenheit). During the winter season, tires play a crucial role in the vehicles overall safety and performance.
As temperatures drop, standard (non-winter) compound characteristics show decreased elasticity. This results in a reduced contact area and therefore overall grip. The need for greater mobility and improved safety in winter conditions has led to high demand for winter tires. To better understand the benefits of a winter tire, we must understand that its properties are geared towards "cold temperature" performance.
Lexus Tire Storage Tips
Lexus of Edmonton offers a tire storage service.
Exposure to the elements and heat are the main factors that affect the speed at which a tire ages. Tires will age naturally, but by taking a few steps to properly care for your tires, you may be able to prolong their life.
Ultraviolet rays and heat are not good for the rubber in your tires. You should keep your off-season tires out of direct sunlight. When storing your tires, place them flat in a cool dry, cool location that is not close to electrical motors or machines. They can give off ozone, which can damage your tires.
Lexus Tire Price Match Promise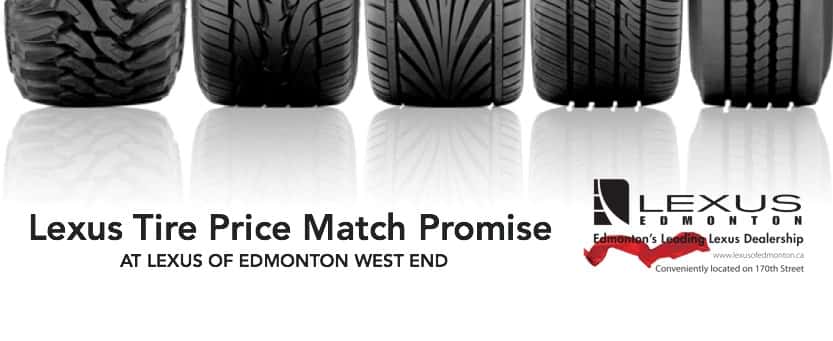 Lexus of Edmonton offers tires specifically selected to optimize the performance of your Lexus vehicle. Installed by a Lexus Tire Technician for added peace-of-mind. Now with our Tire Price Match Promise available you can always find the right tire at the right price.
Here's how it works. We'll match the advertised price – including Canadian Internet quotes – on tires from any of the 14 top tire brands sold by Lexus of Edmonton.
Even if you purchase eligible tires from us, only to find them advertised for a lower price, you'll be reimbursed the difference. Some conditions apply*. CLICK HERE for Full details.