Dare to Compare the 2017 Lexus RX 350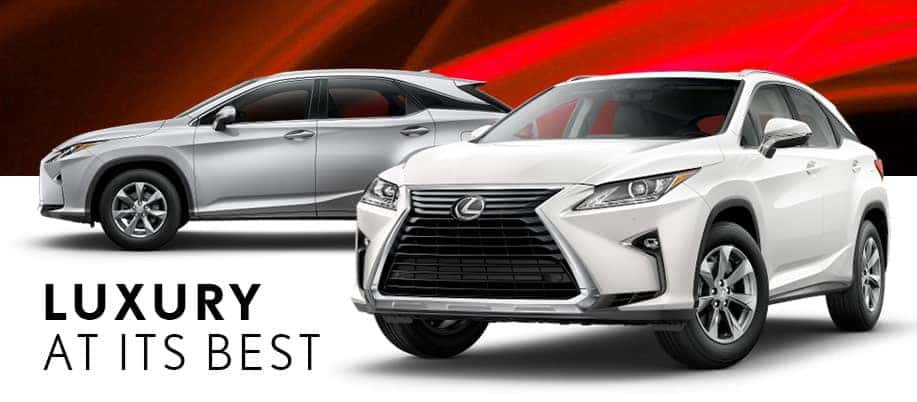 View Inventory
APPLY INSTANTLY
If you're searching high and low to find the perfect luxury SUV for your budget and lifestyle, allow us to show you all the advantages that the 2017 Lexus RX 350 has to offer. From its stunning starting price to its fuel economy ratings to its interior amenities, the new Lexus RX SUV delivers excellence across the board. Feel free to compare the Lexus RX to competition like the 2017 Porsche Cayenne, 2017 Mercedes-Benz GLE, 2017 INFINITI QX70 and 2017 Acura MDX, and see exactly how this Lexus SUV leaves all its rivals in the dust. You can schedule a test-drive now at our Lexus dealership in Edmonton, AB!
Features
2017 Lexus
RX 350
2017 Porsche
Cayenne
2017 Mercedes-Benz GLE
2017 INFINITI
QX70
2017 Acura
MDX
MSRP
$55,900
$69,600
$63,800
$53,990
$53,890
Fuel economy –
highway
(L/100 km / mpg)
12.2/8.9
12.9/9.8
13.3/10.1
14.5/10.8
12.6/9.0
Cargo Volume (L)
695
670
690
702
447
Speakers
12
10
14
11
8
Standard Blind Spot Warning
YES
NO
NO
NO
NO
Powertrain Warranty (months/km)
72/110,000
48/80,000
48/80,000
72/110,000
60/100,000
The 2017 Lexus RX 350 shines bright amongst a crowded luxury SUV segment. That's because the new RX comes with an attainable starting price and a long list of standard and available features that promise unforgettable memories no matter where you travel. Powerful performance combines with impressive fuel efficiency to help you outpace the competition every step of the way. The RX also has more interior cargo volume than its competitors, ensuring you can take along everything you need for your next adventure. The Lexus RX 350 boasts a comprehensive suite of safety features, too, including a standard Blind Spot Warning system, that sets it apart from the pack. If you're looking for the one SUV that everyone in your family will love, you can rest easy knowing the 2017 Lexus RX is right here at Lexus of Edmonton.
Dive into the details and see just why so many luxury-car buyers select the 2017 Lexus RX 350. When you're ready, our Lexus financing specialists will work to get you the keys right away!