Introducing the groundbreaking Lexus TX, a vehicle that combines unmatched luxury and comfort for passengers with a selection of powerful gas, self-charging hybrid, or plug-in hybrid engines. This remarkable offering also incorporates the renowned Lexus Driving Signature, catering to discerning drivers.
A POWERTRAIN FOR EVERYONE
There are three powertrain options to choose from, including two electrified models. The first one is the Lexus-first 3.5L V6 plug-in hybrid, while the second option is the high-performance 2.4L turbocharged hybrid powertrain. For refined driving performance, the TX 350 AWD comes with a 2.4L turbocharged inline 4-engine. On the other hand, the TX 500h offers a 2.4L turbocharged Parallel Hybrid system, available exclusively as F SPORT Performance. As for the TX 550h+ DIRECT4 AWD plug-in hybrid, it combines a powerful 3.5L V6 engine with DIRECT4 AWD, which is a Lexus first.
DIRECT4 ALL-WHEEL DRIVE
DIRECT4, the foundational technology of Lexus Electrified, is an advanced all-wheel drive system found in the self-charging hybrid and plug-in hybrid models. It delivers a prompt and smooth response based on driver input. Utilizing information from vehicle wheel speed, acceleration, and steering angle sensors, the DIRECT4 drive force distribution control dynamically adjusts the front-to-rear drive force ratio between 100:0 and 0:100. This enhances acceleration, stability, and efficiency, resulting in improved performance and reduced power consumption.
INTERIOR
The interior of the TX features a driver-centric cockpit design and a 12.3-inch multi-information display that enhances the connection between the driver and the vehicle. The driver's sense of confidence is further supported by convenient features like an optional head-up display (HUD) and the standard Lexus Interface, which includes a 14-inch Multimedia Touchscreen Display. These user-friendly controls and informative displays provide clear information and intuitive operation for the driver and front-seat passengers.
The exceptional interior of the TX deserves an equally impressive soundscape, which is precisely what the 21-speaker Mark Levinson™ Premium Surround System provides. Available across all powertrain options, this audio system not only delivers true surround sound but is also meticulously tuned for the TX Cabin. As a result, high-quality audio is delivered to every seat, ensuring an immersive and enjoyable listening experience.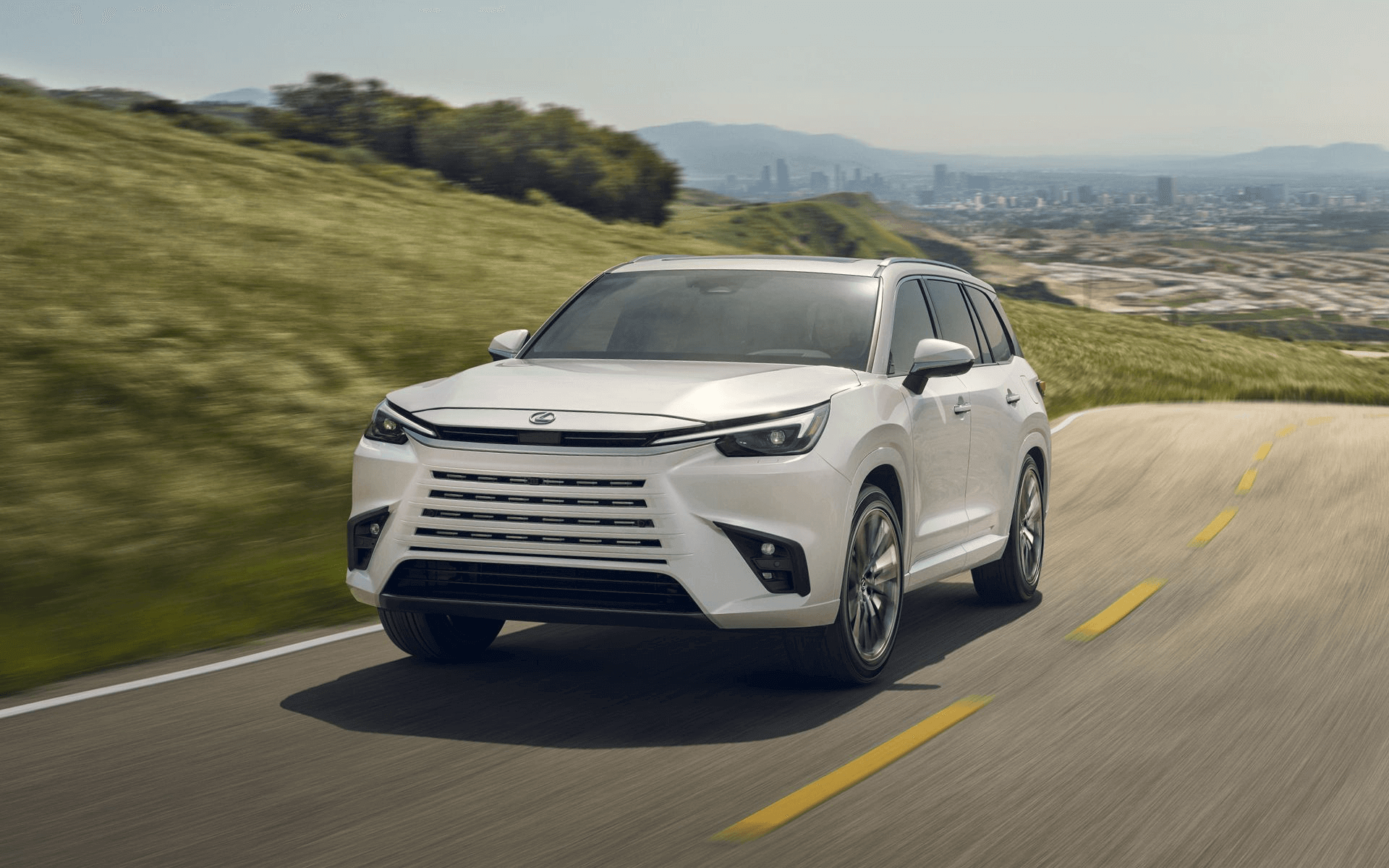 EXTERIOR
The TX joins the lineup of Lexus SUVs by incorporating the advanced GA-K platform, offering a low center of gravity and ideal weight distribution. Notable enhancements have been implemented to reinforce the body rigidity of the TX and minimize noise, vibration, and harshness. The outcome? Unprecedented levels of performance and comfort are rarely found in a three-row SUV
The TX achieves exceptional driving performance with its wide and stable stance, complemented by 20-inch wheels on the Premium Grade. The TX Ultra Luxury (350) and Executive (350 and 550h+) grades feature standard 22-inch wheels for an even more commanding appearance. The 500h F SPORT Performance grades also come equipped with exclusive 22-inch wheels, showcasing a distinctive design.
PLUG-IN HYBRID VEHICLE
There are numerous options on where you can charge your 550h+, these include at home, at work, or at most public charging stations. The time for charging will depend on the size of the batter and the speed/level of the charging point.
120-VOLT AC Outlet: LEVEL 1 - STANDARD
This is best for drivers with short commutes. The charging can be done anywhere that has a common household 3-prong outlet.
240-VOLT AC OUTLET: LEVEL 2 - FASTER
The ultimate setup for the fastest at-home charge. These can be found at public charging stations nationwide. A licensed electrician can install level 2 chargers like ChargePoint in your home.
Learn more about ChargePoint
FILL OUT THE FORM BELOW TO SECURE YOURS NOW!